About Landmark Exteriors

---
Protecting Homes of Distinction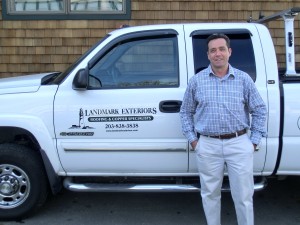 In 1996, Scott Teed saw an opportunity to improve the roofing design and installation industry. He used his creative passion and years of experience to found Landmark Exteriors, Inc.
With the understanding that a roof is only as a good the work put into it, Scott built the company on the premise that every client deserves the highest-quality products, precise workmanship and exceptional design solutions. As such, Landmark Exteriors does not outsource its work to subcontractors, but hires, trains and coaches its employees to become skilled in the craft of roof building. Landmark Exteriors operates under the premise that a roof is not just a roof; it is a roof system and there is a process in doing it right. This ensures that the standards Scott has set, are followed through the company and that these standards are adhered to for for every client - regardless the size of the job.
Since 1996 the company has grown to include the Cedar-Life and Home Care divisions. This expansion, combined with the company's development of new processes and products, has catapulted Landmark Exteriors to be a leader in roofing, siding and gutter design and installation.