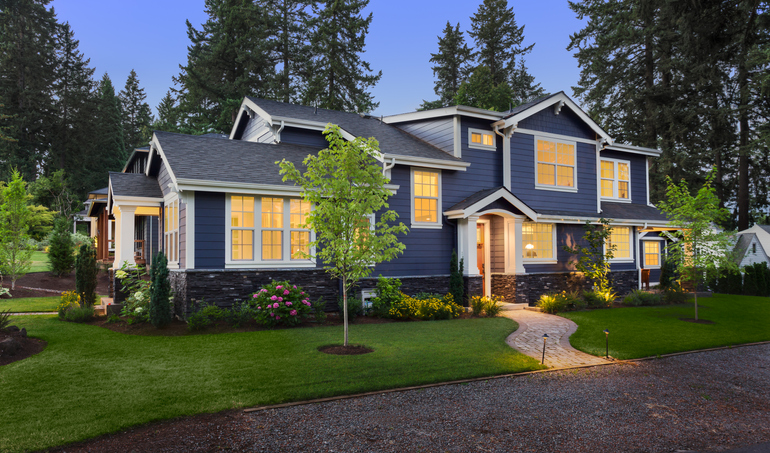 Maybe you just bought your dream home and wanted to make it your own, or you've owned your home for years and want to freshen it up. Whichever your situation is, picking an exterior paint color for your home is a big decision. It's the first thing someone notices about your home, and will most likely be a color you live with for a long time. Before making a final decision, here are some of the do's and dont's to help you choose the perfect color for your home
DO: Have a Little Fun!
Many homeowners think choosing a neutral color such as gray, beige, or white for their home will cost them less, but this isn't the case. Unique colors cost just as much as more common ones do, so if you want to have fun with your new color scheme, have some fun!
Keep in mind; light colors make a house look larger and more inviting. Dark colors, in contract, make a house look more substantial and can suggest stability and permanence.
DON'T: Ignore Your Neighbors
It's great to be creative, but it can be a bad idea to pick colors that clash with your neighbors' exteriors. For example, if your neighbor's home is green, you may want to stay away from painting your home red. You can still stand out without conflicting with your neighboring home.
DO: Take a Good Look Before Painting
You can't change every outdoor aspect of your house with a fresh coat of paint. The dark specks of your brick, or the color cast from your roof shingles. When deciding on a new color for your home's siding, choose one that will complement the other exterior elements of your home.

DON'T: Wing It
Exterior painting is a big deal, so it's essential to hire a reputable painter to complete the project. They will paint a small area of your main exterior, trim and your accent color, so you can see how your new theme is coming together. Additionally, they'll make sure the paint is applied and dried correctly.
DO: Consider Trends
The color you choose for your home today is very likely to still be in style tomorrow, or ten years from tomorrow. While white is considered a 'safe' choice, more homeowners have been experimenting with accenting their homes and trying colors or tinted neutrals. Tour a few neighborhoods to see colors in action and to get a better feel of what you like.
DON'T: Misplace the Accent
Add character and dimension to your home by accenting its exterior. Painting your window trim and exterior details in a contrasting color will add a great accent to your home. Only use a highlight on the more attractive features of your home, and steer clear of features like your gutters.
If you're looking for a dedicated, experienced, and dependable roofing contractor, look no further than Landmark Exteriors! To learn more about our services, check out our website, or speak with one of our professionals at 203.838.3838