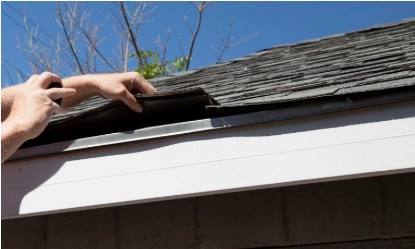 When it rains, it pours. Not only this month but next month as well! You should make sure your roof is ready to take on these intense weather patterns, or else you might be facing some roofing issues in the near future. Here are some tips for checking to make sure your roof is ready for the April showers ahead:
1. Safety First
First and foremost, you should make sure you are inspecting your roof safely! Do not climb on a ladder while alone. If you don't feel you need to get close and personal to check, look from a window or use a set of binoculars.
2. Check Shingles
If you notice any cracking, curling, or missing shingles, that is a sign that your roof is not ready to take on heavy rain. If ignored, over time, water can leak into the home and lead to water damage down the road.
3. Gutter Strength
Your gutter is a pivotal part of your draining system. Their job is to channel the rainwater away from your home and into your drainage system. When broken or lacking the proper strength to do the job, water will pool around your foundation and lead to damage to your home's foundation.
4. Examine The Inside Of Your Home
When a roof leak is present, there might also be water damage. Look around your home for signs of water spots, leaks or damage. If any is present, you'll want to get your roof fixed ASAP.
Last But Not Least, Call A Professional
Making an appointment with roofing specialists can help make sure you don't miss anything during your inspection. A team of professionals can spot minor things that you might have missed and will provide you with the best solution for you and your home.
Knowing you're in good hands is essential when it comes to the quality of your roof. When searching for a roofing specialist, be sure to contact the best. Landmark Exteriors Inc is dedicated when it comes to ensuring quality roofing. Contact our team of roofing specialists: (203) 838-3838.